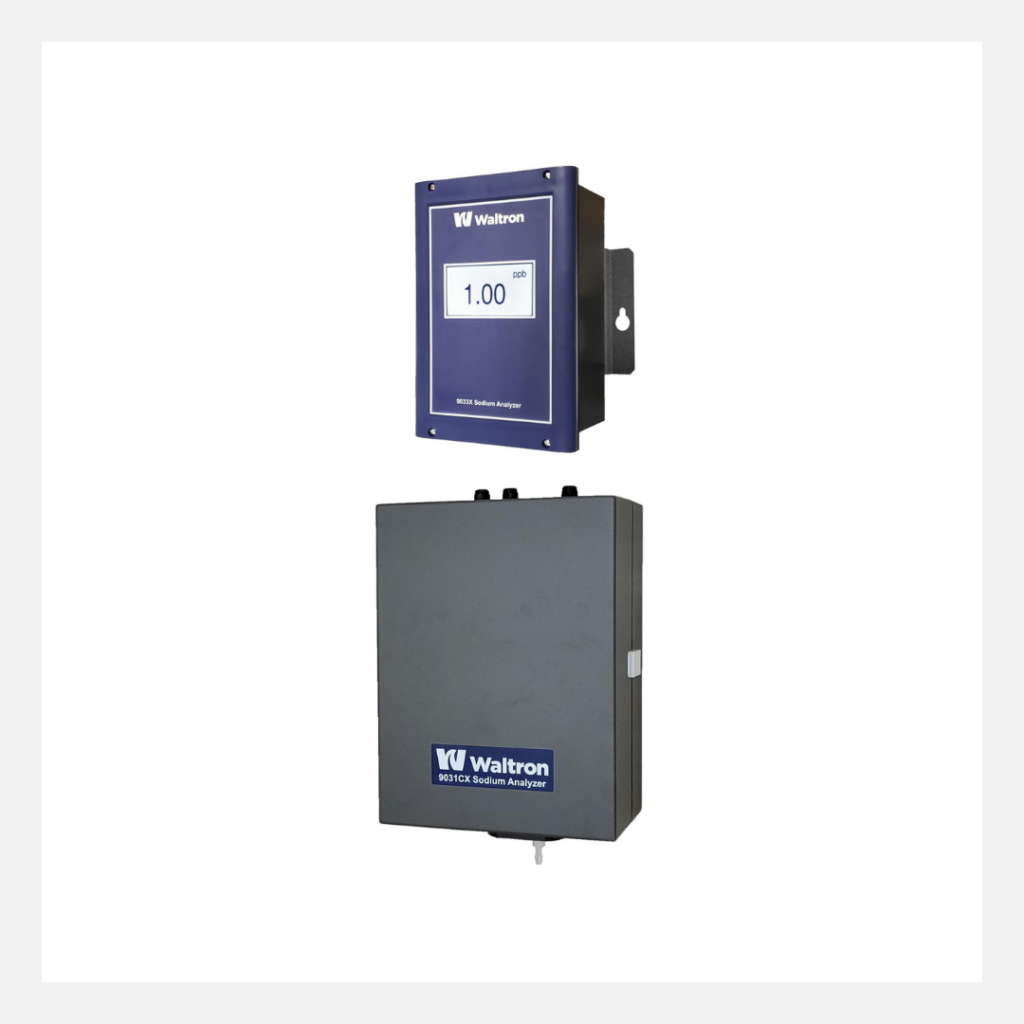 9031CX Sodium Analyzer
Range: 0.1ppb – 10ppm
---
The Waltron 9031CX Sodium Analyzer combines simplified design with uncompromised performance for the control of sodium and damaging anions in ultrapure water applications. This economic manual calibration-only option can save your budget as well as mounting space, with options to panel mount the separated transmitter and wet section. An enhanced color touchscreen user interface makes the 9031CX easy to operate and configure, and a constant head allows accurate measurement, independent of flow. Common 9031CX application points in a boiler system for online sodium measurement include: make-up water, condensate, boiler feedwater, and saturated steam/main steam.
Large user friendly color touch screen interface
---
---
Wide analysis range: 0.1ppb – 10ppm
---
Quick connect electrodes and probe positioning clamps
---
Two 4-20 mA isolated current outputs
---
Low reagent and standard consumption
---
Internal data logger set to store readings every 10 minutes for 30 days
---
Minimal maintenance required
---
Automatically stores last 10 calibrations and alarms
---
Reagents: Ammonium Hydroxide (standard) or Di-isopropylamine (optional)
---
MODBUS and PROFIBUS connections coming soon!
PERFORMANCE
---
Range
0.10ppb – 10ppm
---
Accuracy
±5% of reading or ±0.1ppb (whichever is greater) within ±5°C of calibration temperature
---
Reproducibility
±5% of reading or ±0.1ppb (whichever is greater) at constant temperature
---
Response Time (approximate)
90% of 1-10ppb step: less than 4 minutes; 90% of 100-1ppb step: 5 minutes
---
Temperature Compensation
Automatic
---
pH Compensation
Alkaline vapor buffer: 0.88 SG (28% to 30% NH3) ammonia above 0.5ppb sodium, 99% diisopropylamine solution below 0.5ppb sodium
---
Calibration
Manual calibration
---
Current Outputs
Two isolated 4-20mA current (analog) outputs
---
Digital Outputs
Communication interface via RS-232 & RS-485 using MODBUS RTU protocol
---
Alarms
Three voltage-free contacts, alarm points set from transmitter rated at 2A, 250VAC (non-inductive)
---
Power
Wide range of input power supply 90VAC – 250VAC
---
Certification (on request)
Meets low voltage and low electromagnetic compatibility directives
SAMPLE DELIVERY OPERATING CONDITIONS
---
Sample
Temperature: 41 – 131° F (5 – 55°C); Flow 150 – 400 ml/min
---
Ambient Temperature
32 – 131°F (0 – 55°C)
---
Pressure
5 – 30 psig (0.35 – 2.07 bar)
---
Composition
Sample should be filtered to 60 microns, free of film forming compounds
MECHANICAL
---
Construction
Transmitter – high strength ABS,IP65 (NEMA 4x)
Wet section – high strength ABS and sheet metal,all wetted parts stainless steel or PVC,IP55 (NEMA 4)
---
Dimensions
Transmitter: Height = 10.92" (27.74 cm), Width = 7" (17.78 cm), Depth = 3.54" (8.99 cm)
Wet Section: Height = 18.25" (46.36 cm) including drain, Width = 11.25" (28.58 cm), Depth = 7.63" (19.38 cm)
---
Mounting
Four key-style holes: Height = 0.86" (2.18 cm), Top Width = 0.281" (0.714 cm), Radius = 0.28" (0.711 cm) Horizontal: 9" (22.86 cm),
Vertical: 12.875" (32.70 cm)
---
Weight
23 lbs. (10.44 kg)
---
Wiring
Eight (8) conduit knockouts
---
Piping
Sample Inlet: 1/4" (0.635 cm) OD Swagelokt, Drain: 3/8" (0.953 cm) OD tube
---
Distance
Up to 325 feet (100 meters) on request
---
Finish
Corrosion resistant